"Every time we make a mindful step, we are engaged in an act of enlightenment."

— Thich Nhat Hanh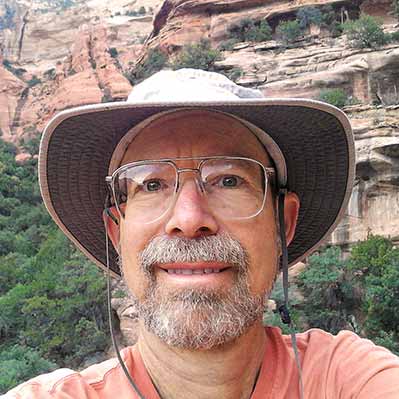 Hi, I'm Michael Feerer.
We all have and/or develop a few superpowers. Over the years, some I've gained are: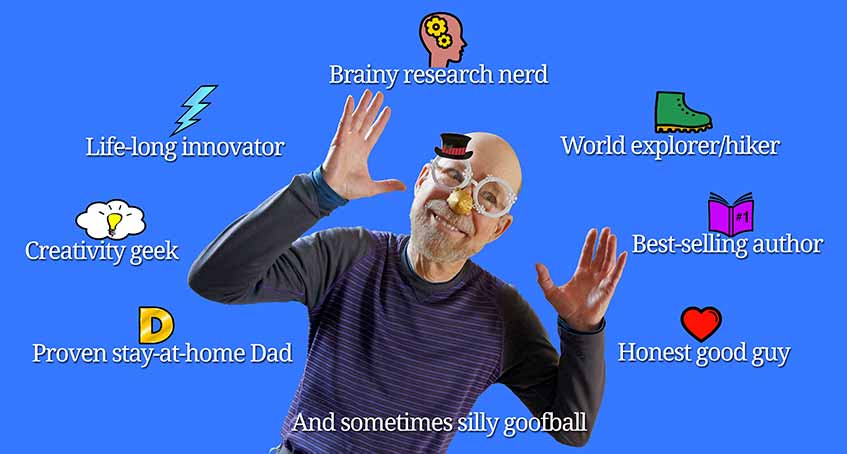 There's a reason why I've earned those. I've tried to live life adventurously and unconventionally but in a mindful and conscientious way, stumbling sometimes but doing my best to learn and grow from all of it.
But it took me quite a while to find this path.
When I was a kid growing up in sunny San Diego, I stared at a particular poster on my bedroom wall a lot. (I still have this poster!)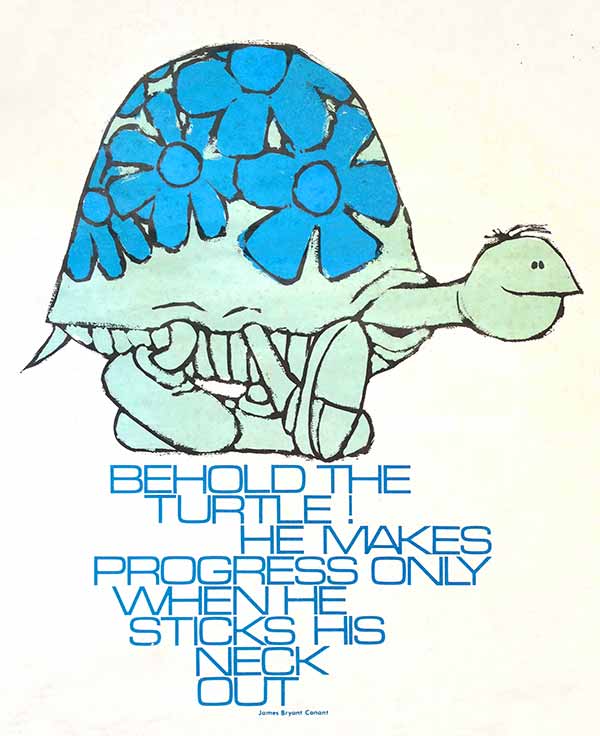 This poster slowly began to inspire me to be less afraid to stick my neck out — to take BIG chances with unconventional ideas.
Even if some didn't pan out.
For quiet-shy-sensitive me, THAT wasn't easy.
Back then, I was mostly just a quirky book-loving kid who among other things…
— happily spent a lot of time on my own entertained by my vivid imagination,
— avidly read every page of the daily newspaper (including the comics, of course),
— passionate designed thousands of futuristic cars and built dozens of plastic models while holed up in my room,
— and felt very inspired watching Star Trek on TV and 2001: A Space Odyssey on the mega-screen (several times).
You know, kind of a curious geeky kid of the late-1960's.
Oh yeah, I also was a proud crossing guard lieutenant and just missed by a few votes becoming School President in 6th grade, barely losing to the most popular girl in school.
But the next year I slammed into a brick wall.
Suddenly and shockingly I was Dad-less (due to his fatal heart attack), sending me emotionally and spiritually into a downward spiral. Adding to that trauma, I was bullied constantly in junior high school. Little did I know that skipping a grade when I was younger set me up to be always smaller than other boys. Sigh.
I still managed to excel academically, which was pretty much my only bright spot.
Then something amazing happened.
My brother Jeff, a student at San Diego State, showed me a tiny classified ad in the university newspaper. The football team needed a ballboy for daily practices. He said, "Why don't you apply?"
Umm… I was a 12-year-old entering eighth grade.
And it was the San Diego State Aztecs football team we were talking about, which back then was a nationally-ranked SUPERTEAM coached by the legendary Don Coryell. He could be so intense, the term game face originated with HIM.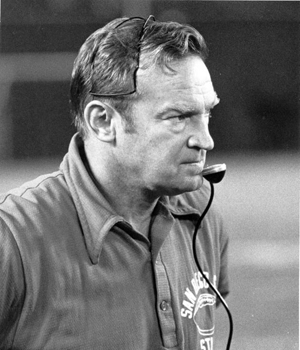 Credit: SDSU NewsCenter – San Diego State University
With my turtle poster in mind, plus a few more nudges from my brother (who usually ignored me and kept his bedroom door closed to study), I stepped shyly into Coach Coryell's office one late afternoon the following week after their practice.
He was horsing around with Tim Delaney, one of the star receivers on the team. They both looked as surprised to see me as I was them. I held up the tiny ad, took a big breath and squeak-asked if I could be the team's ballboy.
They glanced at each other, smiled, and said sure, just report to equipment manager Rafael Ortega at 9 a.m. sharp on Saturday down at Aztec Bowl (where they'd be practicing).
I don't think they believed I'd actually show up.
But I did. And at each practice thereafter. Consistently.
Every afternoon after school I headed immediately to the campus, to diligently serve footballs for hours to the quarterbacks during their practices. (Nobody realized I also soaked up like a sponge all the secret offensive plays and techniques, which were quite innovative for football at the time.)
I bonded with several players, especially Tim Delaney who kind of took me under his wing. My football-throwing arm greatly strengthened. Soon, Tim and other receivers were asking me to toss hard passes back and forth with them while they waited for their turn to run a play. So my role expanded.
And Coach Coryell amazingly was okay with that. Despite his fired-up intensity on game days, he was always honest, straightforward, considerate, and fun for everyone to play (and work) for. In fact, many players look back at their Aztec years as the most extraordinary of their athletic life.
It was extraordinary for me, too. It was like I stepped into a mind-blowing magical world totally different than school or home — virtually every day.
My persistence and consistency eventually earned me a chance to become the regular ball-boy during home games in gigantic San Diego Stadium, on the field with 50,000+ fans screaming from the stands above!
It was an awesome responsibility that I took very seriously. After all, the Aztecs had the most innovative passing offense in college football. And little ol' me was one key cog (together with the officials on the field) in making sure for every play the quarterback had a dry, clean ball to throw or hand off. If I screwed up, THAT could screw up the entire game!
This life-changing experience turned around a very dark chapter in my life.
It gave me confidence in my abilities.
It modelled for me how to aim high in whatever I attempted.
It demonstrated to me the potency of being innovative.
And it showed me how just one small break could change and empower one's life.
That experience as a tween continues to inspire me to this day to try to empower and benefit others with my creative gifts. Maybe something I offer will open up a crack of light somewhere in a young someone's darkness.
Nowadays, after six-plus decades of a creative life, I'm a happy, observant, wellness-oriented, lifelong learning, book-loving (still), green-living DAD — and now GrandDAD! WOAH! I'm still sometimes shy and sensitive but nevertheless I adventurously approach life while passionately giving back. I aim to do that until my dying day.
I live in the Pacific Northwest (Bellingham, Washington) and after my daughter went off to college I slow-explored the world via long-term house/pet-sits — not in tourist hotspots but near inspiring off-the-beaten-track wildernesses. Over the years, I've hiked/jogged more than 45,000 miles in diverse nature.
Among many wellness and spiritual benefits, nature provides an ideal setting for me to process and clarify my life, and to access my inner voice/intuition. My most potent ideas almost always originate there.
Being the best Dad — and now GrandDad — I can be to my now-adult daughter, awesome son-in-law, and grandson, AND an empathetic good listening, connected friend to select others, AND as good of a person I can be to all other beings (two-legged and four-legged and no-legged), are my true top priorities. Integrity, honesty, kindness, and compassion matter the most.
(My daughter is super cool, btw. I'm marking my DAD-ness as a BIG success. And aiming for a repeat as GrandDad for a super-cool grandson!)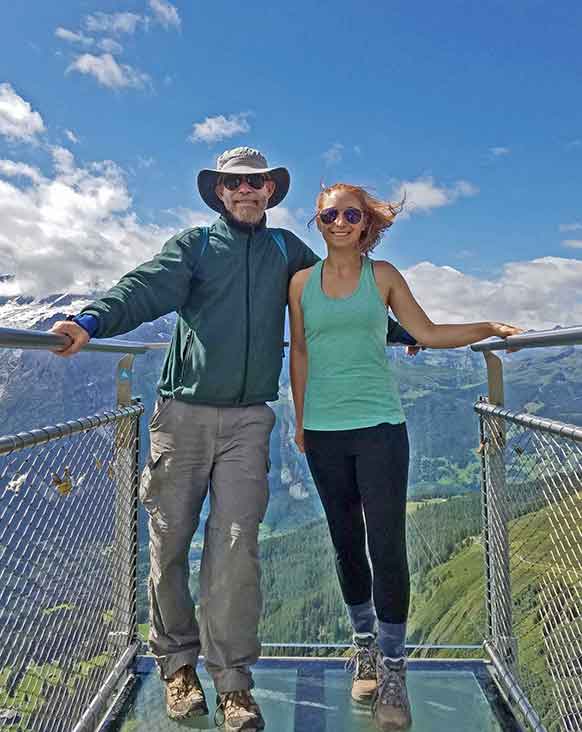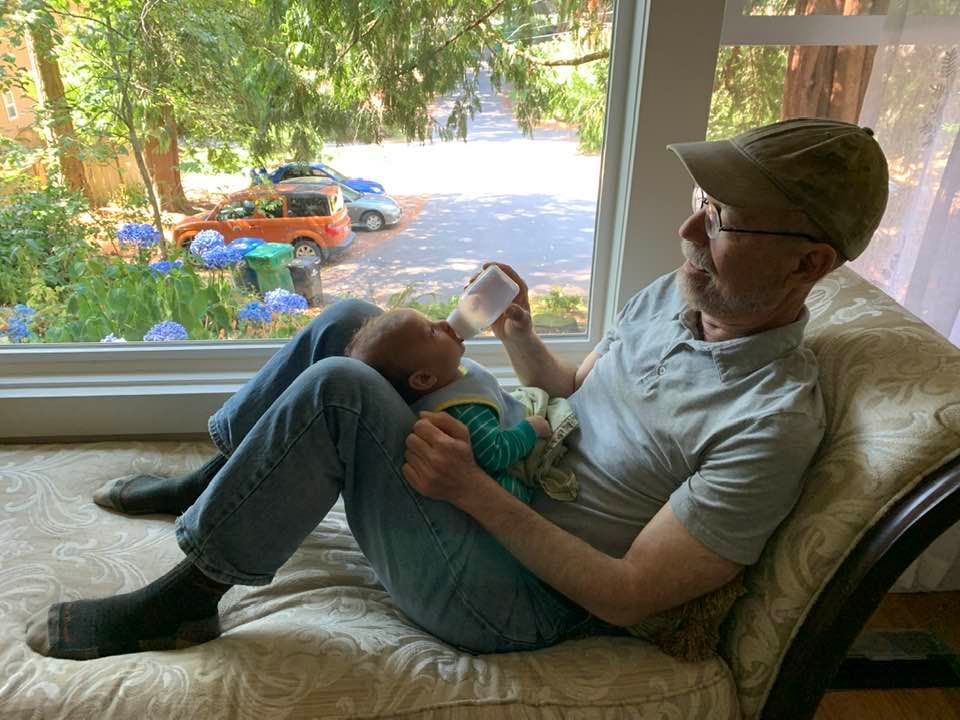 Thanks for learning a little about my life journey. There's surely more to come… so please stay in touch as the next step of my life journey unfolds. You can contact me directly at heartleaf333 [ at ] [gee mail dot com]. Or use my Contact page or message me on Facebook. Thanks! Enjoy!