For all of my adult life, I've applied my creative and entrepreneurial talents to build innovative ventures that create positive social change. 

I work on these projects while continuously slow-exploring the world — not in touristy hotspots but instead near amazing off-the-beaten-track wildernesses. I've hiked/jogged more than 30,000 miles in nature over the past few decades. Among many benefits, nature provides an ideal setting to formulate and clarify my creative ideas and directions. For a high-creative like me, that equals nirvana! 
Nowadays, I am developing The BookPie. The BookPie will provide a new way for to discover the most celebrated, very best children's books—fiction and non-fiction, from pictures books through upper middle-grade. It will be designed for all users, including the sight-challenged. Launching mid-2020, this exciting new resource will be handy for families, teachers, librarians, and others. Click here for a sneak peek!
I also fulfill my mission in other ways, such as mentoring others, giving charitably, and developing cool facilities for a terrific non-profit K-6 school (Cedar Tree Montessori in Bellingham, WA).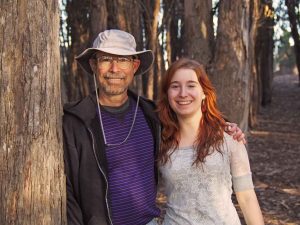 My life's work truly feels like play and adventure (well, at least most of the time). It isn't always about harvesting my high creativity, though. Continuing to be the best Dad I can be to my daughter, and a true friend to select others, is also a top priority. As is living a very healthy, active, ethical, green lifestyle—while forgiving myself for the occasional slice of vegetarian pesto pizza. 😉
Somehow, even as a teen, I envisioned having multiple careers during my life, no matter how successful and enjoyable any one of them became. I have always felt too curious about the world. And I'm drawn to creatively solving problems, or at the very least blazing a fresh way to look at things.
•

Career #1:

User-Based Architectural Consultant
Straight out of graduating with Highest Honors from California Polytechnic State University, San Luis Obispo—the nations largest architectural school—I founded an innovative consulting firm in San Diego: Michael Feerer & Associates.
I was 22-years young, starting my first entrepreneurial venture! (Ignorance can be bliss.)

I aimed to specialize in user-based architectural planning. My goal was to blend powerful social science techniques (from the new field of environmental psychology) with planning and design.
The vision: Every user's spatial needs, every department's operational priorities, and the organization's overall long-term direction would be figured out and melded into a cohesive, detailed concept before design of the building began. How?
I'd interview all users one-on-one in their workspace.
I'd unobtrusively observe how each workgroup interacted, which sometimes was different than they imagined.
I'd use anonymous surveys to uncover unspoken issues.
I'd measure and discuss key metrics, like how many linear feet of file storage truly needed to be nearby.
I'd consider the "big picture" strategic direction of the organization and how that could change over decades.
I'd research and visit state-of-the art similar facilities.
I'd hold participatory workshops to review ideas and build consensus.
Last but not least, I'd present the results digestibly in a big report—my first writing career!—for use by the entire architectural team.
And, as a final touch, I'd often be the space planner on the team laying out virtually every inch of the building.
R.A.D.I.C.A.L.
Extensive "architectural programming" (the jargon term for such pre-design efforts) was practiced by only a few professionals worldwide. Typically, architects rarely involved a wide range of building users in the design process. Only the "paying" client (maybe a CEO, Board, a few top managers) would have a say.
Maybe the client would have a few pages of basic criteria to give to the architectural team. And they'd pipe up in presentations a bit.
That's not much to go on regarding a building's functionality, especially since head honchos rarely know the intricacies of what all staff and visitors face daily.
Also, for most architects, exterior aesthetics ruled—always—especially for high-profile medical and public facilities. (That's still true to this day.) Interior layout and functionality? Oh, yeah. Hand that off to interior designers to cope with late in the project process.
Sort of like squeezing sardines into an inflexible tin can.
Why did architecture work this way? Three big reasons:
(1) Architects had no training in architecture school about how to discover, understand, and synthesize user needs.
(2) Architects felt overwhelmed trying to process such an immense load of detailed information during design—especially for large projects involving hundreds of users.
(3) Standard professional fees didn't cover such "extra" efforts.
The end result: most building users ended up with a shiny new facility which was discouraging (or in some cases, a nightmare) to work in day after day.
To me, that was profoundly unfair and a social injustice. To solve it, everyone needed a voice in the design process, especially regarding their own workspace!
But, alas, my idealistic plea was not well-received by most architects. Most argued there were no fees to spare for such a consultant, even if they did like the idea somewhat.
After six months of knocking on architectural doors, I was down to my last $200 of savings. Still, I persisted.
And finally I landed my big break. A small firm who had been doing remodels for years for a large hospital in San Diego had been commissioned by the hospital Board to master plan their long-term space needs.
The architect had no clue how to do that. And I happened to walk into his office on just the right day.
As my crucial first project, I did an especially bang-up job on it over the following six-months. Of course.
Soon other medical and public organizations learned of me. They loved the idea of user-based planning and design. They were eager to hire me directly as their pre-design consultant, even before any architectural team was chosen.
Suddenly architects had to be receptive to my user-based approach, as a condition of being hired for the project.
That changed everything. Yay!
Thereafter, Michael Feerer & Associates took off. Eventually, I planned more than one-million square feet of civic and medical facilities. That included numerous city halls, libraries, visitor centers, hospitals, and some of the first freestanding outpatient surgery centers in the nation.
Now for the part that surprises a lot of people:
Despite being in high demand, I chose to eventually end this career after twelve years of business. Although my wife Kim and I both grew up in San Diego, we ached to live in a smaller, more nature-oriented community.
After a long search up and down the West Coast, we moved to lovely Bellingham, Washington.
Shortly after moving, I tried flying back to Southern California for one more project. I quickly realized that kind of lifestyle was not for me. So I closed up the MFA shop when the project was done and kept an open mind as to what would be next for me professionally.
•

Career #2:

Author of Premiere with a Passion
Two years later in Bellingham, as a happy stay-a-home dad raising my infant daughter, I authored Premiere with a Passion (published by Peachpit Press).
The book was the first of its kind to guide everyday folks through an easy, low-cost path into video creativity—a realm previously dominated by video pros with expensive hardware.
The democratization of video-making, in a sense. I liked that.
Loaded with step-by-step guidance, humor, and tons of screen illustrations, Premiere With a Passion became the bestseller in its desktop video niche. The 415-page book sold 27,000-plus copies in two editions over a three-year front-list reign. Click here for book details.
There was only one problem. Since desktop video was evolving so rapidly in those early days, each new edition of my guidebook required nearly a total re-write and re-layout.
Ouch—that meant about a year of intense work for me per edition! Only to repeat again the following year. I hadn't anticipated such a treadmill.
After completing the second edition and starting the third, I realized I needed to shift my creative path. Fortunately, a slightly different direction was calling to me.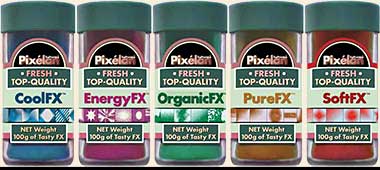 •

Career #3:

Inventor of Soft, Organic Visual Effects
Every copy of Premiere With a Passion featured a valuable freebie in the back—a disk full of soft, organic effects I designed for Premiere. They provided an aesthetic, timeless alternative to ugly hard-edged "wipes," dumb 3D transitions (like a toilet flushing a scene away), and explosions (made popular by Star Wars movies).
With the freebie, I simply wanted to give video creators compelling alternatives to ugliness and visual violence. (I'm a very non-violent person.)
From almost never watching TV as an adult (or ever owning one—one of my secrets to my creativity), I had "fresh eyes" to design new looks.
Guess what happened? Hundreds of videomakers begged me (via real fan mail; no email back then) to create more of these unique effects.
So, when my daughter turned three and needed less of my time daily, I spent six-months developing a Video SpiceRack CD. I chose that name after brainstorming thousands.
Coincidentally, about three months after I released Video SpiceRack the Spice Girls became a media sensation. We had nothing to do with each other, but the spice metaphor suddenly was very much a part of the cultural wave.
Talk about impeccable timing! With that boost and from its own merits, Video SpiceRack became a runaway hit in the desktop video world.
And with that success I founded Pixelan Software.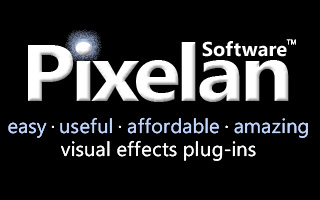 Pixelan is now celebrating its 21st year, continuing to provide compelling visual effects plugins for everyone from home YouTube movie creators to high-budget indie and studio filmmakers. (I no longer run Pixelan day-to-day.)
Here's a brief movie about one of our most popular plugins: DissolveMaster. It's my personal favorite among the many effects plugins we have developed.
Nowadays, soft organic visual effects are offered by several companies. They appear routinely in numerous movies, TV shows, YouTube videos, and in social media clips worldwide. 
Premiere with a Passion and Pixelan were there from the start.
In summary, my three prior professional careers…
provided rich experiences in diverse realms;
built my solo and collaborative work strengths;
were wide-ranging in what they accomplished;
were driven by social issues/causes close to my heart;
sometimes evolved in crazily unexpected ways;
showed me the benefit of impeccable timing;
required a ton of patience and persistence; and
always involved design and creativity in some unusual way.
ALL of these ventures and experiences inform and energize my current creative efforts. I will continue to tackle creative innovations for the remainder of my hopefully-long life. Being creative to benefit others is simply too satisfying and enjoyable to stop!
Thanks for reading!